Last Updated on November 16, 2021
Amazon Music is one of the best platforms to stream music. This package comes alone and is not to be confused with Amazon Prime Music which is part of Amazon Prime and costs around $119 per year. 
The beauty of Amazon Prime is that you get access to free shipping, around 2 million songs, shows, movies, and thousands of books to read.
Yes, Amazon is that awesome sometimes.
If your trial duration for Amazon Music is coming to an end or for some reason you no longer need it, it's okay to cancel your subscription. If you forget, the service will automatically bill you. 
Unlike Prime, Amazon Music has a robust library with roughly 70 million tunes. It's indeed great especially if you already make most of your purchases on their website. But if it's time to call it quits, then we are going to share with you a few steps on how to cancel Amazon Music.
Here are the steps on how to cancel amazon music:
Step 1: visit the amazon website.
Step 2: click the navigation bar (the three small lines on the top left).
Step 3: select Amazon Music.
Step 4: proceed to Amazon Music Unlimited. This will redirect you to Amazon's Music platform.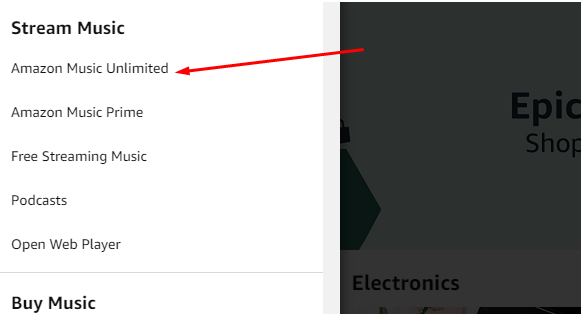 Step 5: Click on "Setting" located on your top right. This will display all your current active plans.
Step 6: Select the plan you want to cancel, scroll to the bottom of the page and click on "cancel subscription" 
Step 7: they won't let you go that easy instead, they'll ask that you provide a reason for your exit. This step is optional. If you don't want to give them feedback, just click on "No, I don't want to provide any feedback. Please cancel my subscription."
Step 8: Confirm that you still want to go ahead with unsubscribing and that would be the end of it.
Optionally, you can as well visit the amazon website, and on the top right, access the "accounts and lists." Then scroll down and select "memberships & subscriptions. This will bring up all the plans you have with Amazon-including Amazon Music. If you click on it, the process will proceed as the steps highlighted above.
FAQ About Amazon Music
What are the features of Amazon Music?
Amazon Music features over 70 million songs, millions of podcasts, thousands of stations, the ability to make playlists, and unlimited skips. You can also listen to songs offline to save bandwidth. The free version of the app supports ads and they play in between music and podcasts. Only the paid versions are ads-free.
Can I Pause instead of canceling?
Well, it's not possible to pause Amazon Music. Canceling in itself is a way to pause since your account still exists with Amazon and you will occasionally receive adverts and updates. To stop getting emails, you'll have to click on "unsubscribe" located at the bottom of every email.
So, when you are ready to resume, you can just activate your account. Bear in mind, this time you will not be eligible for a free trial again. To enjoy that, you will have to create a new account.
Does ending the subscription stop the service? 
If you have paid, the service will remain active up to the last date. So there is no need to worry about that.
Do I Need Amazon Music If I have Amazon Prime?
If you really love music and want an enriching experience, you better get Amazon Music. With over 70 million premium quality songs and CD-quality playback, this package is definitely worth looking at. Like we said earlier, Amazon Prime is limited to around 2 million songs.
Spotify vs. Amazon Music, which is better?
Frankly, it all comes down to what you prefer. Spotify is widely known and its in-app aesthetics are nothing short of stellar. On top of it, its recommendation algorithm is excellent at its job. Nevertheless, Amazon Music wins when it comes to offering more pricing options.
What are worthwhile alternatives to Amazon Music?
There are many worthwhile alternatives to Amazon Music for music streaming buffs. Spotify definitely takes the top spot. Other considerable candidates include Google Play Music, Qobuz, Apple Music, and Deezer.