'DHAN' in hindi refers to 'WEALTH'. The festivalof Dhanteras falls on the thriteenth lunar day or Trayodeshi of Krishna Paksha(dark forthnight). The festival of Dhanteras or Dhantroydeshi is celebrated to honour the goddess of wealth, prosperity and Lakshmi.
People buy gold or silver coin, jewellery, new clothes and utensils as it is believed that buying any of these things on this day brings good luck to one's life. People worship Goddess Lakshmi on this day because according to the Hindu mythology, on this day Goddess Lakshmi was born during the stirring or churning of the milky ocean by the Asuras and the Devtas.
History and Significance of the Day-
According to Hindu mythology, Lord Dhanvantri emerged during Samundra Manthan, holding a Kalash full of Amrit (an Aruvedic herbal mix bestwoing immotality) in one hand the sacred text about Aruveda in the other hand. He is considered to be the Vaidya of Gods.
Religious tradition to buy Gold and Coins-
It is like a tradition to buy either gold or silver on this auspicious day. It is considered auspicious to bring home new utensils on this day. Hindus consider it auspicious and therefore, purchase gold and silver on this day…….people, invest in gold silver Jwellery.
'Kuber and Lakshmi' as a Symbol of Wealth-
Lord Kubera is the 'Treasure of the Gods' and king of 'Yaksha'. He is a true representation of wealth, prosperity and glory. Lord Kubera not only distributes, but also maintains and guards all the treaures of the universe. Hence on the festival of Dhantras, Kuber and Lakshmi are worshipped as a symbol of prosperity.
Melancholy Activities You can Do on Dhanteras-
Shopping especially Silver-gold coins and Jwelleries.
Strengthing the family bonds.
Welcoming Goddess Lakshmi and Kubera.
Buying the Gold, silver and Utensils.
Lightening Earthen Diyas in the evening.
Offered sweets and Parsad of the God.
---
Happy Dhanteras Wishes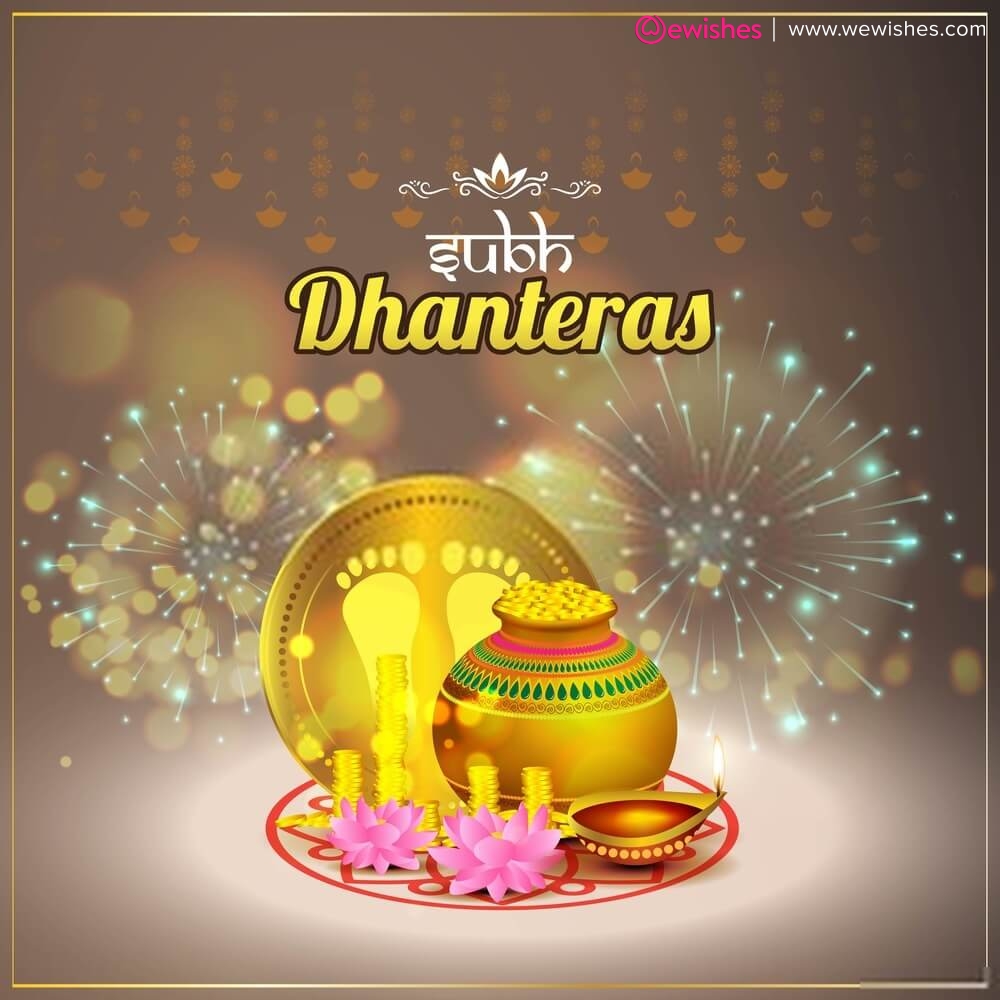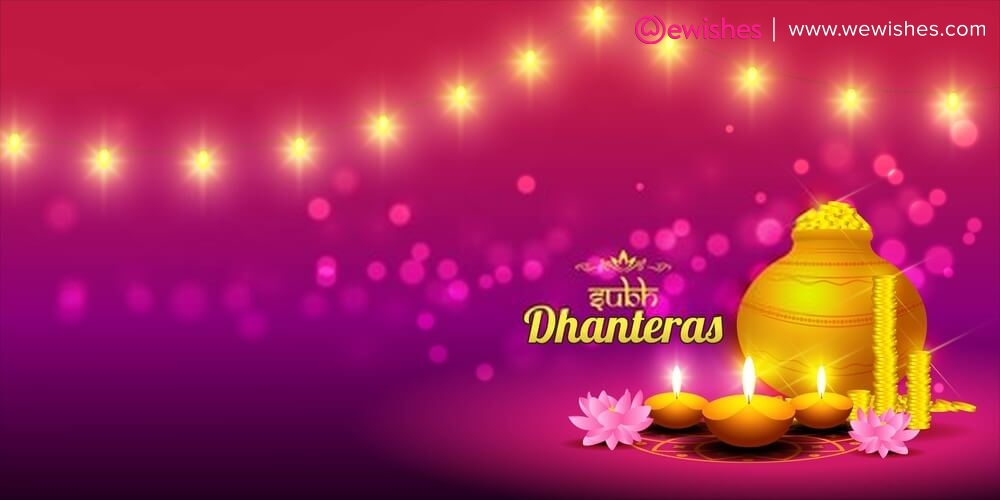 Also Read: Happy Vishwakarma Puja 2020: Wishes, Quotes, Messages, Images, Pictures, Facebook & Whatsapp status
Also Read: Happy Durga Puja and Navratri Festival History & Significance 2020
Dhanteras Quotes 2020
D=dhan,
H=health,
A=anand,
N=nature,
T=talent,
E=enjoyment,
R=romance,
A=aitbar,
S=subhagya so wish you a very Happy Dhanteras!
May this Dhanteras Light up new dreams, fresh hopes, undiscovered avenues, different perspectives, everything bright & beautiful and fill your days with pleasant surprises and moments. Happy Dhanteras to you and your family
Also Read: Happy Ganesh Chaturthi 2020 wishes: Images, quotes, greetings, WhatsApp messages to celebrate the festival
Dinodin badhta jaye apka karobar, Pariwar me bana rahe sneh aur pyar, Hoti rahe sada apar dhan ki bochar, Aisa ho apka DHANTERAS ka tyohar.
Iss Dhanteras kush kash ho, Dilo mein khusiyan, Ghar mein sukh ka vaas ho, Har moti pe aapka taj ho Mite duriya, sab aapke pas ho Yeh Dhanteras aapka khas ho!
May your business grow consistently every day, and may there always be peace and harmony in your family. I wish for you a perennial shower of wealth on the auspicious occasion of Dhanteras.
Adorn our lives else trite – With sparklers that motley skies – As soaring spirits of powder wander – Let us thank the heavenly might in this festive season of lights. Happy Dhanteras 2020!
Good Health, abundant wealth and unimaginable prosperity are the things I wish for you this Dhanteras. Happy Dhanteras 2020!
May this Dhanteras light up new dreams with fresh hopes, undiscovered avenues and different perspectives. May your life be bright and beautiful, and full of pleasant surprises and moments. Happy Dhanteras 2020!
Also Read: Happy Deepavali Wishes, Greetings, Messages, Status Send To Your Loved Ones
May Goddess Lakshmi shower on you her immense blessings, enriching your lives with prosperity, happiness and joy on this Dhanteras. Happy Dhanteras 2020!
Aati He Diwali Se Ek Din Pahele
Karti He Paiso Ki Baarish
Kahete He Ham Isko Dhanteras
Ye To He Badi Suhani Badi Mast..
Happy Dhanteras 2020 to you and your family.
Aaj se aap ke yahan dhan ki barsat ho, Maa Laxmi ka niwas ho, Sankat ka nash ho, Sar pe unnati ka taj ho. Happy Dhanteras.
Happy Dhanteras Wishes In Hindi
धनतेरस की हैं सबको बधाई,
सदा रहे घर में लक्ष्मी जी की परछाई।
प्रेम मोहब्बत से रहना सब,
क्युकी धन के रूप में बरसता है रब।
---
दिनोंदिन बढ़ता जाए आपका व्यापार,
परिवार में रहे स्नेह और प्यार,
होती रहे सदा धन की बौछार ऐसा हो
आपका धनतेरस का त्यौहार..
---
सोने का रथ चांदनी की पालकी, बैठकर जिसमें है मां लक्ष्मी आई,
देने आपको और आपके पूरे परिवार को धनतेरस की बधाई!!!
---
दिलो में खुशियाँ, घर में सुख का वास हो,
हीरे मोती से आपका ताज हो,
मिटे दूरियां, सब आपके पास हो,
ऐसा धनतेरस आपका इस साल हो।
---
धन धान्य भरी है धनतेरस
धनतेरस का दिन है बड़ा ही मुबारक
माता लक्ष्मी है इस दिन की संचालक।
आओ मिल करें पूजन उनका,
जो हैं जीवन की उद्धारक।
धनतेरस की शुभ कामनायें!
---
आती है दिवाली से एक दिन पहले
करती है पैसो की बारिश
कहेते हे हम इसको धनतेरस।
ये तो है बड़ी सुहानी बड़ी मस्त.
---
यह धनतेरस इतना खास हो,
घर आपके लक्ष्मी का वास हो,
दूर ना हो कोई सब आपके पास हो..
शुभ धनतेरस
---