Some of the most important people in our lives, these funny sister quotes contain all the true antics of having a sister; from the fights to the unconditional love.
What can we learn about family from our sisters?
Sisters can be everything for us, from our own personal superheroes to supermodels and comedians. There's nothing truer than love for your sister; whether older or younger.
The funny sister quotes listed below show us that family is about being there for your siblings no matter what.
It's about being best friends, even when we're annoyed. It's about going through everything with each other, and still coming back to each other for a good laugh at the end of the day.
Don't forget to also read our collection of brother and sister quotes celebrating unbreakable bonds.
Funny Sister Quotes About Sibling Relationships
1. "Sisters are like fat thighs… they stick together." – Unknown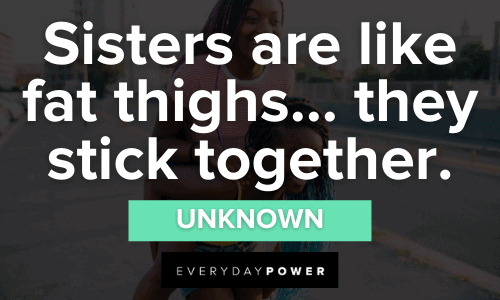 2. "I smile because you're my sister. I laugh because there's nothing you can do about it." – Unknown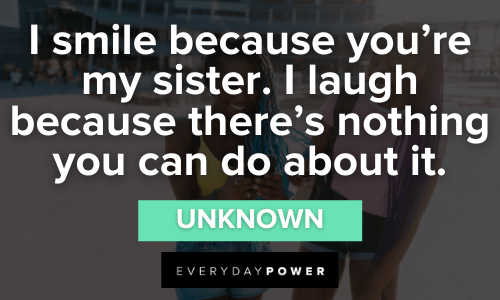 3. "My sister has an awesome sister, true story." – Unknown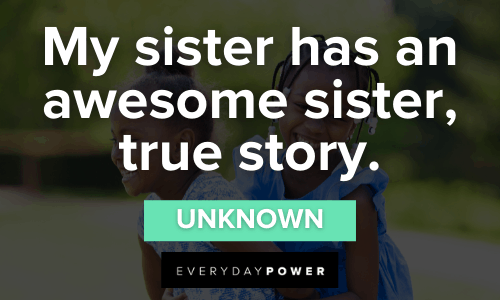 4. "Sisters never quite forgive each other for what happened when they were five." – Pam Brown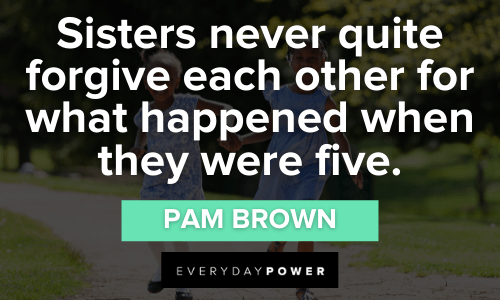 5. "We are sisters. If I am mad at someone, you are mad at them, too. End of story." – Unknown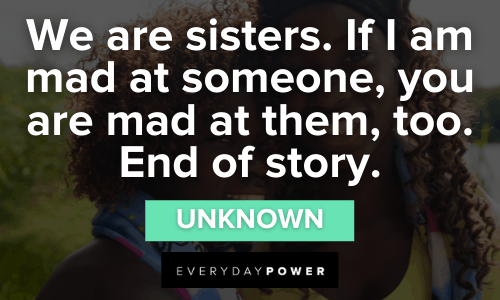 6. "If you mess with the big sister, there is always a younger, crazier sister behind her… that's who you don't want to mess with!" – Unknown
7. "In the cookies of life, sisters are the chocolate chips." – Unknown
8. "More than Santa Claus, your sister knows when you've been bad and good." – Linda Sunshine
9. "We may look old and wise to the outside world. But to each other, we are still in junior school." – Charlotte Gray
10. "Middle sister: victim of our older sibling, tormentor of our younger sibling, and somehow, peacekeeper between the both of them." – Unknown
If you're enjoying these quotes, make sure to read our collection of sibling quotes to cherish your BFF by blood!
11. "Your sister's advice (solicited or unsolicited), carries weight." – Lorraine Bodger
12. "Being sisters means you always have backup." – Unknown  
13. "If you don't annoy your big sister for no good reason from time to time, she thinks you don't love her anymore." – Pearl Cleage
14. "The middle sister is really just a big sister and a little sister in one." – Unknown
15. "Your sister knows which hot buttons to push to get you going, but she also knows how to be a support and encouragement when you go through difficult times." – Byron Pulsifer
16. "Sister to sister we will always be, a couple of nuts off the family tree." – Unknown
17. "Behind every little sister there's a big sister standing behind her holding a bat saying, 'You wanna say that again?'" – Unknown
Funny Sister Quotes About How Great Sisters Are
18. "You can kid the world, but not your sister." – Charlotte Gray
19. "Hey my lovely sister, I miss you like an idiot misses the point." – Unknown
20. "A sister will let you know when the outfit you're trying on really doesn't look fabulous." – Unknown  
21. "A sister is both your mirror—and your opposite." – Elizabeth Fishel
22. "When I think of the funny, goofy and ridiculous things we did as kids, I wonder how we turned out so well. Perhaps age has truly matured us, then, maybe not." – Kate Summers
23. "There is no problem that sisters cannot confront, combat, plot against, ignore, make fun of, drown in chocolate sauce, or run over with the car." – Unknown
24. "Sisters: the ones you can get mad at only for a short period because you have important stuff to tell them." – Unknown
25. "The old saying: Families are like fudge, mostly sweet with a few nuts. My sister you are the sweet one." – Unknown
26. "Little sisters can be a pain, but the big sister heroine worship can't be beat." – Allison M Lee
27. "A sister is a little bit of childhood that can never be lost." – Marion Garretty
28. "Sisters are blessed with an extra sense that whispers when the other needs them." – Unknown
29. "Sisters don't need words. They have perfected their own secret language of smiles, sniffs, sighs, gasps, winks, and eyerolls." – Unknown
30. "All you need is love… and a sister." – Unknown
31. "You and I are sisters. Always remember that if you fall I will pick you up… as soon as I finish laughing." – Unknown
You might also like these empowering sisterhood quotes to share with your tribe
Funny Sister Quotes About Love for Sisters
32. "Back off, I have a sister and I'm not afraid to use her!" – Unknown
33. "If you don't understand how a woman could both love her sister and want to wring her neck at the same time then you were probably an only child." – Unknown
34. "Sister and friend: two words that mean the same thing." – Unknown
35. "When sisters stand shoulder to shoulder, who stands a chance against us?" – Pam Brown
36. "Our kids have learned from the experience of brothers and sisters that they can't always be first." – Melissa Dayton
37. "When I say I won't tell anyone, my sister doesn't count." – Unknown
38. "We shared a room, you stole my toys, and then my clothes, but best friends we became." – Catherine Pulsifer
39. "It's hard to be responsible, adult, and sensible all the time. How good it is to have a sister whose heart is as young as your own." – Pam Brown
40. "Sister: a person who's been where you've been; someone you can call when things aren't going right; is more than just family; a sister is a forever friend." – Unknown
41. "Best friends? Nah, she's my sister." – Unknown
42. "Yes, I do have the best sister in the world. It's just that she's crazy and she scares me a little bit." – Unknown
Funny Sister Quotes to Make You Smile
43. "You keep your past by having sisters. As you get older they're the only ones who don't get bored if you talk about your memories." – Deborah Moggach
44. "Never let an angry sister comb your hair." – Patricia McCann
45. "A sister will always notice her sister's first gray hairs with glee." – Allison M Lee
46. "Big sisters are the crab grass in the lawn of life." – Charles M Schultz
47. "I finally moved out of my parents' house. It was only fair to let my sister have her own room." – Kate Winslet
48. "Having a sister is like having a best friend you can't get rid of. You know whatever you do, they'll still be there." – Amy Li
49. "I can't remember if I am the good sister or the evil sister." – Unknown
50. "Sis, I look at you and see your wrinkles, I wonder when they happened. It is as if they just appeared overnight. You can't be getting older than me, can you?" – Catherine Pulsifer
51. "She's my sister, my best friend, my soul mate, and the best part of me." – Unknown
52. "Eleanor Roosevelt once said, 'Women are like teabags. We don't know our true strength until we are in hot water!' Well, my dear sister, no wonder we are looking like an old teabag, we have been in lots of hot water together!" – Catherine Pulsifer
53. "Sisters are for sharing laughter and wiping tears." – Unknown
54. "The greatest gift our parents ever gave us was each other." – Unknown
Other funny sister quotes
55. "Sisters function as safety nets in a chaotic world simply by being there for each other." – Carol Saline
56. "What are sisters for if not to point out the things the rest of the world is too polite to mention." – Claire Cook
57. "A sister is a dearest friend, a closest enemy, and an angel at the time of need." – Debasish Mridha
58. "She could always talk me into anything. My sister made me a little starstruck." – Stacie Ramey
59. "Nobody fights you like your own sister; nobody else knows the most vulnerable parts of you and will aim for them without mercy." – Jojo Moyes
60. "Sisters are different flowers from the same garden." – Anonymous
61. "The best gift by god after your parents in this world is your sister." – Sacheenrjain
62. "I know my sister like I know my own mind, you will never find anyone as trusting or as kind." – Lin-Manuel Miranda
63. "Sisters are supposed to be people you're close to, aren't they. You may not like them much, but you're still close to them." – Kazuo Ishiguro
64. "Only a sister, an alternative self, could inspire such a sordid mix of disgust and envy." – Namwali Serpell
What's so special about having a sister in your life?
Having a sister is having one of the most important relationships in your life. These funny sister quotes capture all the love, happiness, and laughter that comes with having one.
When you have a sister, you're guaranteed to always have someone by your side, no matter what life throws your way.
Sisters are your best defense, they're your best friends, and they're there for the best memories. You will share the most memorable laughs with your sister, and the sweetest sad moments.
The truth is, having a sister is having a built-in partner for life, from the good moments to the bad. And they're always there to make you laugh.
Did you enjoy these funny sister quotes and sayings? Which of the quotes is your favorite? Let us know in the comment section below.