Ray Bradbury quotes on Everyday Power!
Ray Bradbury was born Ray Douglas Bradbury to Leonard Spaulding Bradbury and Ester Moberg Bradbury in Waukegan, Illinois on August 22, 1920. He had a relatively idyllic childhood, and loved reading adventure and fantasy stories.
At around age 12 or 13, he made the decision to become a writer because he wanted to "live forever" through his novels. The first time he was paid for a piece of writing happened when he contributed a joke to George Burns's Burns & Allen Show.
He graduated from high school in 1938, but as he could not afford to go to college due to the fact that this was during the Depression, he decided to self-teach himself everything at the library by going three days a week for ten years.
While working on his writing career, he supported himself by selling newspapers. His first short story publication came in a fan magazine in 1938. In 1939, he started his own magazine made up almost completely of his own writing, which he called Futuria Fantasia.
He sold his first professional piece, a story called "Pendulum," in 1941, and he became a full-time writer in 1943. Dark Carnival, his first collection of short stories, was published in 1947. He published his first major work, The Martian Chronicles, in 1950. His most popular piece of work, Fahrenheit 451, was published only three short years later, in 1953, and became an instant classic.
He continued to write well into his 80s, and even continued after he could no longer write himself by telling one of his daughters to transcribe his words for him. His life-long career in writing and brilliant storytelling came to an end when he died at the age of 91, on June 5, 2012, in Los Angeles, California.
Ray Bradbury is an inspiration to everyone, but especially aspiring writers and scholars, because he never let lack of money, formal college education, or the state of his life stop him from pursuing his dreams and becoming the writer he wanted to become.
Don't forget to also read these Fahrenheit 451 quotes from one of Ray Bradbury's greatest works.
Inspirational Ray Bradbury quotes about life
1. "You don't have to burn books to destroy a culture. Just get people to stop reading them." – Ray Bradbury
2. "We are an impossibility in an impossible universe." – Ray Bradbury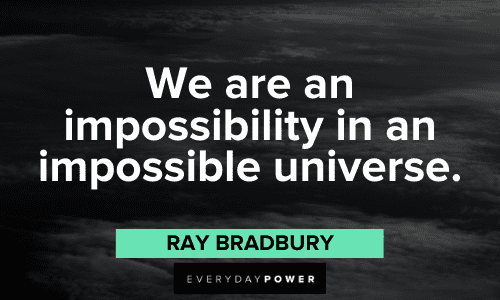 3. "Because I like you, she said, and I don't want anything from you." – Ray Bradbury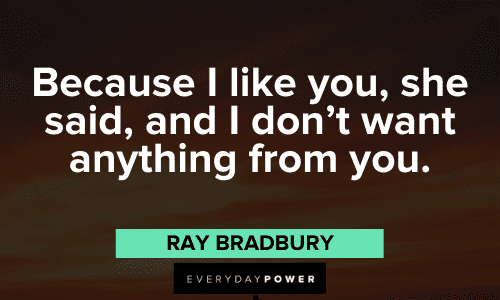 4. "Why is it, he said, one time, at the subway entrance, I feel I've known you so many years?" – Ray Bradbury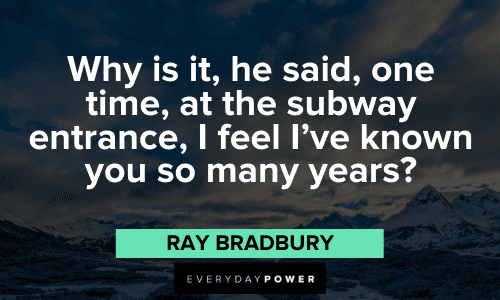 5. "If you hide your ignorance, no one will hit you and you'll never learn." – Ray Bradbury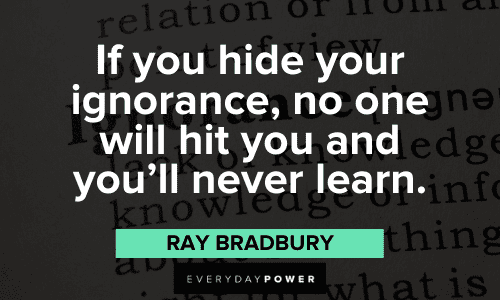 6. "Everything that happens before Death is what counts." – Ray Bradbury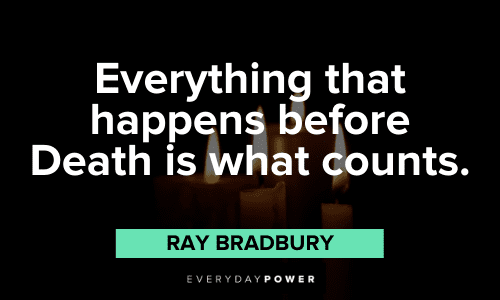 7. "First you jump off the cliff and build your wings on the way down." – Ray Bradbury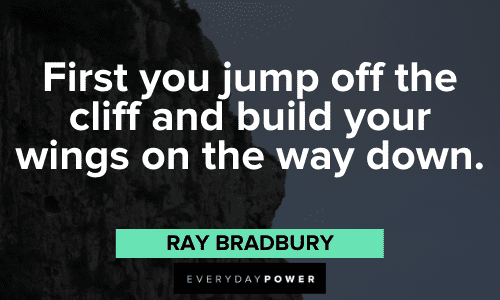 8. "You must stay drunk on writing so reality cannot destroy you." – Ray Bradbury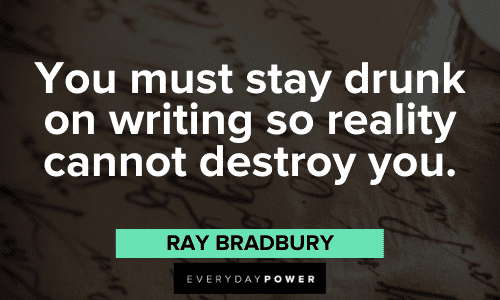 If you're enjoying these quotes, make sure to read our collection of writing quotes that will inspire you to begin your own writing journey.
9. "I don't talk things, sir. I talk the meaning of things." – Ray Bradbury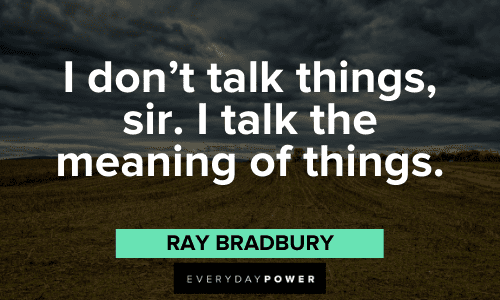 10. "I have two rules in life – to hell with it, whatever it is, and get your work done." – Ray Bradbury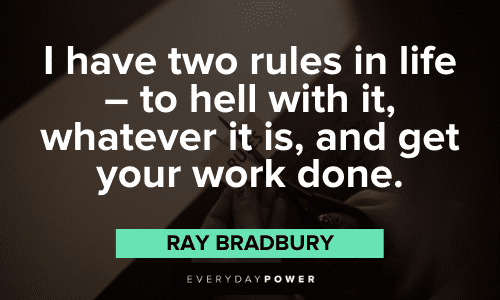 Ray Bradbury quotes on education
11. "I don't believe in colleges and universities. I believe in libraries because most students don't have any money. When I graduated from high school, it was during the Depression and we had no money. I couldn't go to college, so I went to the library three days a week for 10 years." – Ray Bradbury
12. "Don't think. Thinking is the enemy of creativity. It's self-conscious and anything self-conscious is lousy. You can't try to do things. You simply must do things." – Ray Bradbury
13. "I'm seventeen and I'm crazy. My uncle says the two always go together. When people ask your age, he said, always say seventeen and insane." – Ray Bradbury
14. "Learning to let go should be learned before learning to get. Life should be touched, not strangled. You've got to relax, let it happen at times, and at others move forward with it." – Ray Bradbury
15. "Stuff your eyes with wonder, he said, live as if you'd drop dead in ten seconds. See the world. It's more fantastic than any dream made or paid for in factories." – Ray Bradbury
Ray Bradbury quotes on writing
16. "The good writers touch life often. The mediocre ones run a quick hand over her. The bad ones rape her and leave her for the flies." – Ray Bradbury
17. "The magic is only in what books say, how they stitched the patches of the universe together into one garment for us." – Ray Bradbury
18. "There is more than one way to burn a book. And the world is full of people running about with lit matches." – Ray Bradbury
19. "There must be something in books, something we can't imagine, to make a woman stay in a burning house; there must be something there. You don't stay for nothing." – Ray Bradbury
Ray Bradbury quotes on life
20. "We are cups, constantly and quietly being filled. The trick is, knowing how to tip ourselves over and let the beautiful stuff out." – Ray Bradbury
21. "We need not to be let alone. We need to be really bothered once in a while. How long is it since you were really bothered? About something important, about something real?" – Ray Bradbury
22. "A book is a loaded gun in the house next door…Who knows who might be the target of the well-read man?" – Ray Bradbury
Ray Bradbury quotes on life
23. "A good night sleep, or a ten minute bawl, or a pint of chocolate ice cream, or all three together, is good medicine." – Ray Bradbury
24. "Anything you dream is fiction, and anything you accomplish is science, the whole history of mankind is nothing but science fiction." – Ray Bradbury
25. "Bees do have a smell, you know, and if they don't they should, for their feet are dusted with spices from a million flowers." – Ray Bradbury
26. "But you can't make people listen. They have to come round in their own time, wondering what happened and why the world blew up around them. It can't last." – Ray Bradbury
More Ray Bradbury quotes
27. "Find out what your hero or heroine wants, and when he or she wakes up in the morning, just follow him or her all day." – Ray Bradbury
28. "I went to bed and woke in the middle of the night thinking I heard someone cry, thinking I myself was weeping, and I felt my face and it was dry." – Ray Bradbury
Ray Bradbury quotes on dreams
29. "I'll hold on to the world tight some day. I've got one finger on it now; that's a beginning." – Ray Bradbury
30. "It doesn't matter what you do…so long as you change something from the way it was before you touched it into something that's like you after you take your hands away." – Ray Bradbury
31. "Love. Fall in love and stay in love. Write only what you love, and love what you write. The word is love. You have to get up in the morning and write something you love, something to live for." – Ray Bradbury
32. "So few want to be rebels anymore. And out of those few, most, like myself, scare easily." – Ray Bradbury
33. "The minute you get a religion you stop thinking. Believe in one thing too much and you have no room for new ideas." – Ray Bradbury
34. "There was her face, like a summer peach, beautiful and warm, and the light of the candles reflected in her dark eyes. [He] held his breath. The entire world waited and held its breath." – Ray Bradbury
35. "There's no use going to school unless your final destination is the library." – Ray Bradbury
Thought-provoking Ray Bradbury quotes
36. "You have to know how to accept rejection and reject acceptance." – Ray Bradbury
37. "Then I looked at the window and thought: Why, yes, it's just the rain, the rain, always the rain, and turned over, sadder still, and fumbled about for my dripping sleep and tried to slip it back on." – Ray Bradbury
38. "Ideas excite me, and as soon as I get excited, the adrenaline gets going and the next thing I know I'm borrowing energy from the ideas themselves." – Ray Bradbury
39. "Every morning I jump out of bed and step on a landmine. The landmine is me. After the explosion, I spent the rest of the day putting the pieces together." – Ray Bradbury
40. "If God treats you well by teaching you a disastrous lesson, you never forget it." – Ray Bradbury
41. "Video games are a waste of time for men with nothing else to do. Real brains don't do that." – Ray Bradbury
42. "There are worse crimes than burning books. One of them is not reading them." – Ray Bradbury
Motivational Ray Bradbury quotes
43. "You can't try to do things; you simply must do them." – Ray Bradbury
44. "You fail only if you stop writing." – Ray Bradbury
45. "If an idea isn't exciting, you shouldn't do it." – Ray Bradbury
46. "If you dream the proper dreams, and share the myths with people, they will want to grow up to be like you." – Ray Bradbury
47. "Touch a scientist and you touch a child." – Ray Bradbury
48. "Love is easy, and I love writing. You can't resist love. You get an idea, someone says something, and you're in love." – Ray Bradbury
49. "It's lack that gives us inspiration. It's not fullness." – Ray Bradbury
50. "We are anthill men upon an anthill world." – Ray Bradbury
More Ray Bradbury quotes and sayings
51. "I have never listened to anyone who criticized my taste in space travel, sideshows or gorillas. When this occurs, I pack up my dinosaurs and leave the room." – Ray Bradbury
52. "You must write every single day of your life… You must lurk in libraries and climb the stacks like ladders to sniff books like perfumes and wear books like hats upon your crazy heads… may you be in love every day for the next 20,000 days. And out of that love, remake a world." – Ray Bradbury
53. "We cannot tell the precise moment when friendship is formed. As in filling a vessel drop by drop, there is, at last, a drop which makes it run over; so in a series of kindnesses there is at last one which makes the heart run over." – Ray Bradbury
54. "Don't ask for guarantees. And don't look to be saved in any one thing, person, machine, or library. Do your own bit of saving, and if you drown, at least die knowing you were heading for shore." – Ray Bradbury
55. "Your intuition knows what to write, so get out of the way." – Ray Bradbury
56. "Insanity is relative. It depends on who has who locked in what cage." – Ray Bradbury
57. "Without libraries what have we? We have no past and no future." – Ray Bradbury
58. "That's the good part of dying; when you've nothing to lose, you run any risk you want." – Ray Bradbury
59. "The first thing you learn in life is you're a fool. The last thing you learn in life is you're the same fool." – Ray Bradbury
60. "Self-consciousness is the enemy of all art, be it acting, writing, painting, or living itself, which is the greatest art of all." – Ray Bradbury
Which Ray Bradbury quotes are your favorite?
Tell us in the comment section below!