Do you happen to be on the lookout for the best stock research websites? Fortunately, you have come to the right place.
Before we can take a look at these websites, it is important to understand what stock analysis actually is. This is a method that allows traders and investors to make informed decisions for purchasing and selling.
These stock research websites provide detailed research reports so you can study the current trend. Even though the technical analysis from a stock advisor is never a bad idea, the best stock market websites ensure that you do not even need one.
The Need for Investing with Stock Market Websites
You can read about the importance of investing and stock recommendations all over the internet. But why is that so?
The idea is that rates of interest are still low, despite the fact that the S&P 500's average annualized return in the equity markets over the previous ten years has been considerably above 10%.
Stock choices made specifically for you might help you achieve even better results. Using the best stock market websites to trade and invest in the financial markets is a fantastic method to create money over time, and it can be done on any budget.
Compounding has a tremendous amount of power. If individual investors put $50 in their bank account every month, it will take them approximately 166 years to reach $100,000.
However, if you harness the power of compounding and investment through the best investment sites, you may get the same result in a relatively short time.
What Is Capturing Alpha?
If you ask a reliable stock advisor, Alpha is a metric that compares your active return on investments to a market index or benchmark that is meant to represent the market's overall behavior.
For example, active traders and professional investors could contrast an investment's performances to that of the S&P 500 over the same period, and the extra return portion would be called the alpha.
The term "capturing alpha" refers to consistently outperforming the typical stock investor and gaining more money in the stock market than equity research reports predict. Keep in mind the term "consistently."
You could get extremely fortunate with one stock doing better than expected at a particular instance, but it takes more than luck to do it regularly.
The Best Stock Research Websites
There are many stock research platforms out there that provide straight financial news and technical analysis to make sure that your individual stocks don't go down the drain. You may be surprised to know that some of the best stock market apps out there can help you even more than a personal stock advisor.
The list of the best stock research websites is as follows:
FinViz
Stock Rover
Benzinga Pro
Morningstar
Atom Finance
Hammerstone Markets
Portfolio123
TradingView
Yahoo! Finance
Google Finance
Motley Fool Stock Advisor
Zacks Investment Research
Seeking Alpha
Trade-Ideas
Wall Street Journal
Here Are The 15 Best Stock Analysis Websites
1. FinViz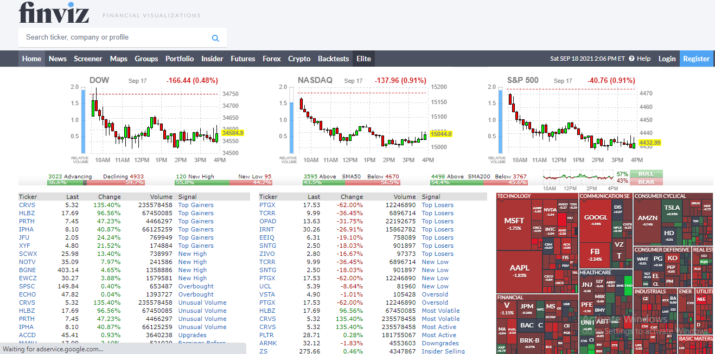 Image from finviz.com
Summary
Multitudes of traders use the stock research tool's premium features to make better and educated judgments. Real-time stock quotes, sophisticated visualizations, backtesting, and much more are all included with FinViz.
Furthermore, it offers premarket and aftermarket analytics. You may also utilize the service's improved Stock Screener to sort stocks and extract real-time data as well as historical data, and build sophisticated charting, modify filters, and examine statistics.
FinViz features a user-friendly design that allows you to quickly locate what you are searching about. The software also offers intraday charts and overlays, stock indications, sketching tools, borderless formats, performance comparability charts, correlations, and technical research backtesting for FinViz Elite premium customers.
You may also get rid of all advertising on your forum by becoming a FinViz Elite member. It gives you access to all of the features that free and registered users have.
Charting, backtesting, alarms, real-time maps, emails on new alerts, and up to 100 screener presentations are among the premium features. Consider joining up for a membership or getting started immediately.
Cost
FinViz is a stock research program with both free and paid options. In just the first 30-days of your subscription, you have the option to seek a full refund.
Traders have three major price choices from which to select for FinViz. Individuals who are using FinViz for the first time do not need to sign up or log in.
Free users have access to the most basic features and tools without having to save any data. Users must select one of the other choices to have access to more sophisticated functionality.
Customers must register on the website to use the registered option. Daily charts and graphs, restricted screener results, portfolio tickers, and much more are available to registered users. Users are not required to pay for this option, and it has fewer features than the elite pricing option.
FinViz, like Yahoo Finance, offers a premium service called FinViz Elite. For premium clients, the FinViz Elite plan is the paid version. It costs $39.50 per month or $299.50 per year, which will give you unlimited access to the website's features.
CLICK HERE TO READ MORE ABOUT FINVIZ
2. Stock Rover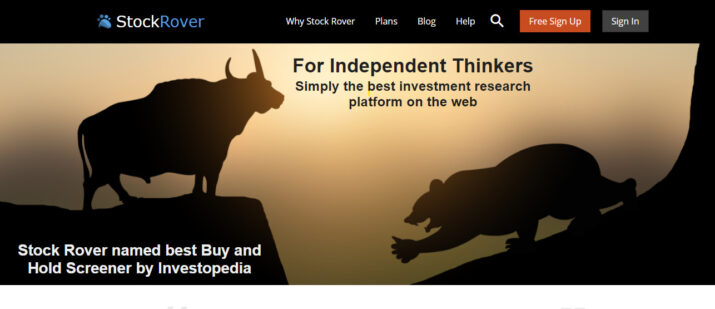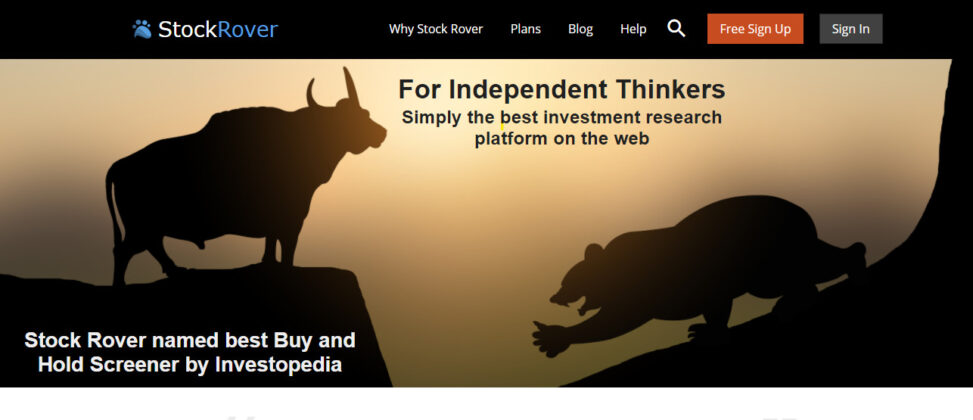 Image from www.stockrover.com
Summary
If you are looking for a stock research app that offers essential stock screeners and portfolio analysis tools, Stock Rover is your best bet.
It provides 10-years of historical and financial news and information on all stocks and ETFs in North America. As its database allows for detailed stock screener techniques, Stock Rover is the ideal platform for Value, Dividend, and Growth investors.
Stock Rover is a master at locating, assessing, and comparing investment possibilities. This stock research website proposes a complete warning system. Not only that but Stock Rover also offers real-time stock screening tools for situations in which businesses trade below their estimated fair market value.
Other than that, it also allows traders to go over the possibilities and opportunities to purchase stocks with a pre-developed safety factor.
Stock Rover provides model portfolios as well as basic stock research. Stockbrokers and traders can get a read-only data feed of their portfolio holdings using this app.
When you connect your brokerage accounts with Stock Rover, the information for each portfolio appear in your stock market research reports for fundamental analysis and tracking business news.
Cost
Stock Rover starts your subscription with a 14-day free trial, which can help you get the lay of the land.
They have three options to choose from, so you may pick the one that best suits your needs. The following is a list of the plans.
Essentials cost $7.99 per month or $79.99 annually. Furthermore, the Premium plan costs $17.99 for a month and $179.99 for a year. And lastly, Premium Plus offers its services for $27.99 per month and $279.99 for the annual plan and particularly giving you unlimited access so you may use this website for the long term.
CLICK HERE TO READ MORE ABOUT STOCK ROVER
3. Benzinga Pro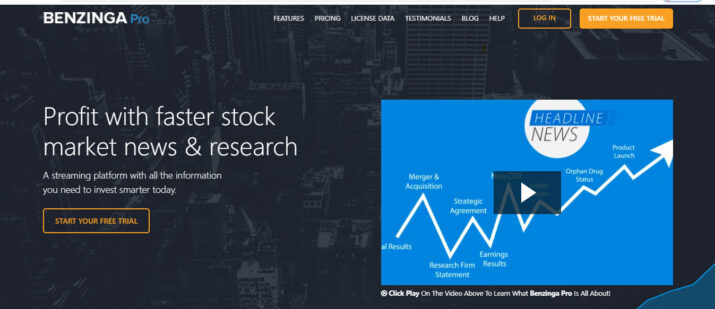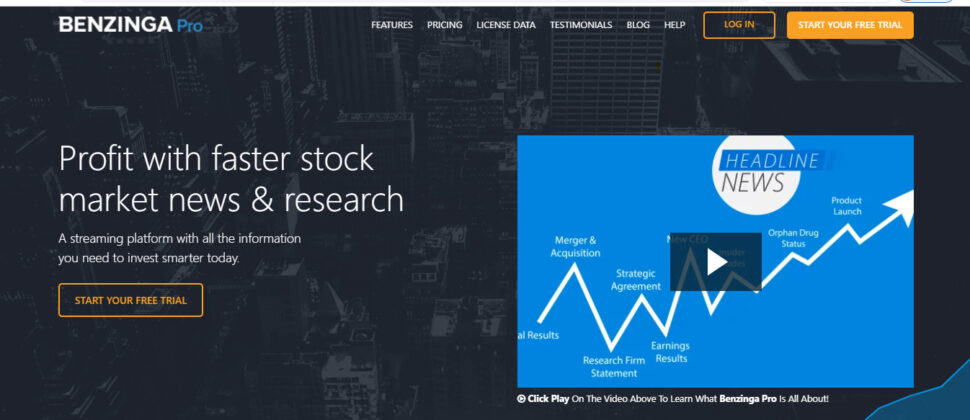 Image from pro.benzinga.com
Summary 
Benzinga Pro is the best individual real-time stock news website. You may wonder why that is?
It is because it offers quick data delivery, exclusive interviews, and full access to financial news. Benzinga Pro is for you if you use the news to manage the stock market. The stock market news portal is very customizable, with the ability to run numerous windows on different monitors.
Furthermore, Benzinga Pro is a sophisticated tool that is also simple to use, which is a challenging combination to achieve.
To finish it off, they have now introduced a detailed analysis of real-time prices and stock charts to the website as well. It is a truly beneficial feature as you can see how news affects the stock price right away.
On their website, they provide traders and investors with a wealth of free stock market news and thought-provoking, as well as creative content.
Basis charting features were just recently added to Benzinga Pro. Within their trading chat room, you may also interact with other traders and stock advisor members. This approach can help traders learn about odd options trading behavior.
As one of the leading companies, Benzinga enables individual investors to establish trading techniques, an investment plan, and investing criteria for their stock portfolio. The features may seem daunting to a novice investor at first; however, the extra usage will become a lot easier.
Cost
Benzinga Pro has two pricing plans; Basic and Essential.
The Basic package for Benzinga PRO is $79 per month. This package includes real-time access to Benzinga's main newsfeed and trade notifications from your watchlist. Traders can even create a watchlist of stocks they own or are interested in and get real-time emails, app alerts, and audio alerts.
Additionally, the Essential package from Benzinga PRO costs $147 per month. The following advantages are included in the higher-level package: Access to all SEC news and PR newsfeeds in real-time and coverage of live earnings announcement events in person.
CLICK HERE TO READ MORE ABOUT BENZINGA PRO
4. Morningstar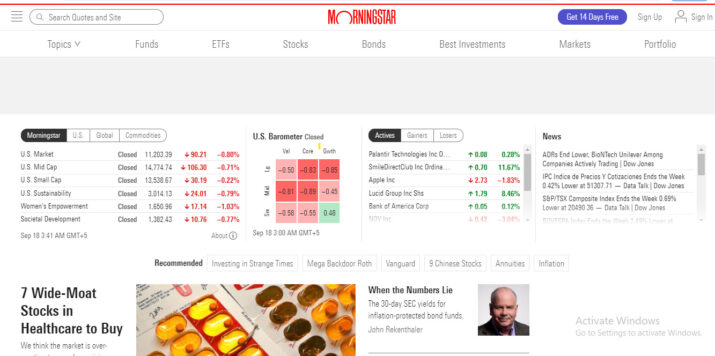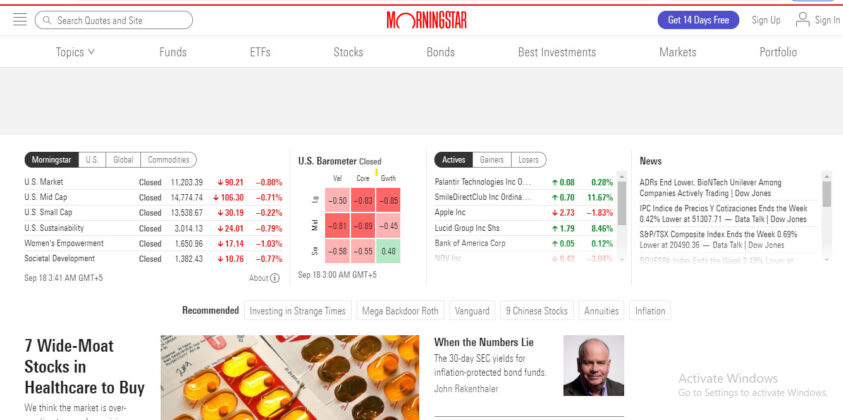 Image from www.morningstar.com
Summary
Morningstar is one of the best stock research websites out there. It offers in-depth insights into the financial markets, with some unique free stock research tools.
This stock advisor website employs over 150 analysts who produce research reports on all big corporations and mutual funds in the United States. Its research reports are moderated. This particular feature implies that they are produced by experts of technical analysis.
Morningstar provides free market news articles and research tools. As an investor, you will prefer their instructional articles on how to get started investing, different trading tools such as a mutual fund and stock screener. Not only that, this stock research tool helps to focus on tax planning, personal finance, and retirement insights.
Morningstar is a dependable tool for novices and investors looking to invest in stock market investment gems using free news feeds, charts, and business data.
The experts assess each stock using a particular process that considers the sector's competitiveness, detailed analysis of the firm's financial health, earnings growth, and fair value.
They have also popularized the concept of an "Economic Moat," which states that a firm with a broad moat has a long-term competitive edge over its competitors.
Cost
Morningstar offers a free 14-day trial. It is a great place to start with if you do not understand how the website works. Other than that, traders and investors can avail Morningstar's services for $23.95 per month. They also have annual plans of $199 for 1-year; $339 for 2-years; $439 for 3-years; or $23.95 monthly.
CLICK HERE TO READ MORE ABOUT MORNINGSTAR
5. Atom Finance

Image from atom.finance
Summary
Atom Finance is one of the very few best stock research applications. Its cutting-edge technology helps retail and institutional investors compete on an equal footing. It accomplishes this by making stock research tools and resources of professional level available.
Thanks to the firm's investing research platform, traders can use a stock screener to identify fresh investment possibilities based on parameters they choose or put into the application.
Other than that, it allows you to link all of your investments to your brokerage account, regardless of how many there are.
Moreover, it also enables customers to get a complete picture of their financial portfolio and dig deeper into their overall accomplishments.
Users may also configure alerts and notifications to obtain the latest news, events, price change movements, and information for their portfolio and watchlists. Aside from that, traders get full access to The Wall Street Journal's analyst activities, price targets, and financials.
Cost
Atom Finance wants investors to make well-informed purchases, which is why it is free for some of its customers. This free trial is available for 30-days after which traders can rely on the subscription. Some of the above-mentioned services need a monthly membership cost of $9.99.
CLICK HERE TO READ MORE ABOUT ATOM FINANCE
6. Hammerstone Markets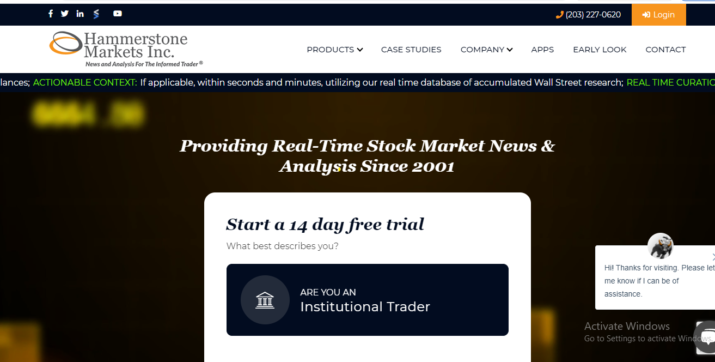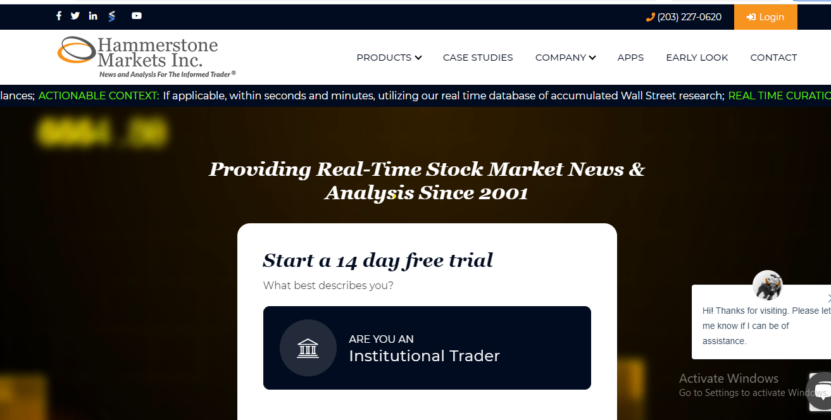 Image from www.hammerstonemarkets.com
Summary
In the last 20 years, Hammerstone Markets has become the quickest news source in the trading world. Traders can obtain the most up-to-date stock market news, as well as up-to-the-minute market commentary, selected and sorted to ensure that they receive the most relevant stock news.
There is no extraneous information or clutter; just the most essential information is shown. Particularly, hedge funds and institutions have had access to their newsfeed from the start.
In the retail trading world, Hammerstone is a modest company. However, it is well-known among investment firms. Subscribers have access to the site's first-hand data. Hammerstone also provides Pro Trader, an institutional-level streaming news feed utilized. I
t is quite beneficial as it was created by 1,300 traders from Wall Street's largest banks, brokers, hedge funds, and trading shops. Hammerstone Markets is an amazing alternative for data analysis on stocks. It is quick, ad-free, and accurate.
Cost
They now provide a news feed for professional traders that is available for an exceptionally low price.
The monthly costs for Hammerstone Markets' main components range from $39 to $299 per month. Since the lowest membership period is only one month, the subscription conditions are reasonable. All services are eligible for the 14-day free trial.
CLICK HERE TO READ MORE ABOUT HAMMERSTONE MARKETS
7.Portfolio123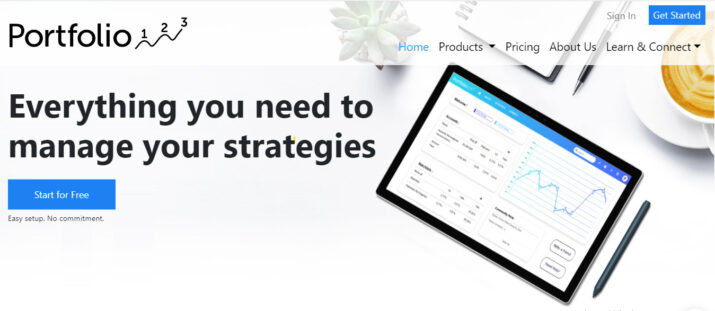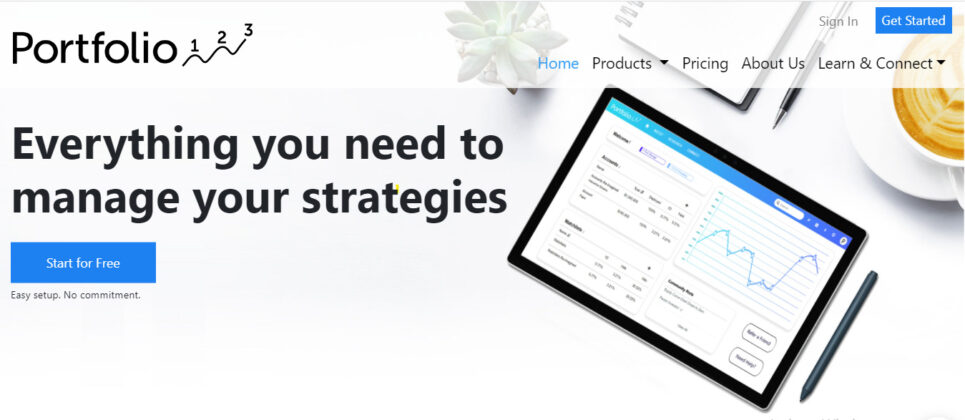 Image from www.portfolio123.com
Summary
By offering best-in-class data, Portfolio123 takes data-based research to the next level. Users may use this stock research tool to create and implement regulation trading and investing strategies with a high degree of mechanization.
Traders and investors may use the application to handle all of their investing selections in one spot. Portfolio123 allows you to link several accounts and follow numerous strategies across them.
Model portfolio options, stock screening, and technique backtesting are available through Portfolio123, a web-based stock investment platform. Investors may build and evaluate their tactics and rating techniques, use the services, and study a plethora of detailed and downloadable data.
It has an incredibly straightforward design. Other than that, webinars and video recordings are available, and they can get accessed over the web from any browser.
Along with the usual performance analysis, you may additionally make watchlists and compare them to other benchmarks. There are pre-configured strategies and stock screeners, and new methods and scans may get easily built, backtested, and monitored.
Cost
Even though basic membership is free, the majority of the website's features need a premium membership, which is a bit pricey. Users pay $25 per month for Portfolio123, while financial managers and research businesses pay $3,000 per year for the service. Students are eligible for discounts, and all memberships may be accessible for $9 for a 35-day trial.
CLICK HERE TO READ MORE ABOUT PORTFOLIO123
8. TradingView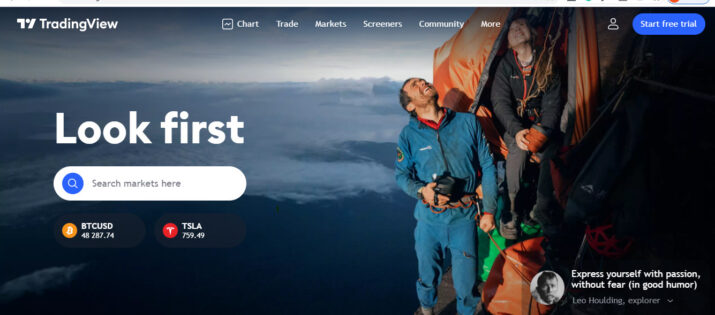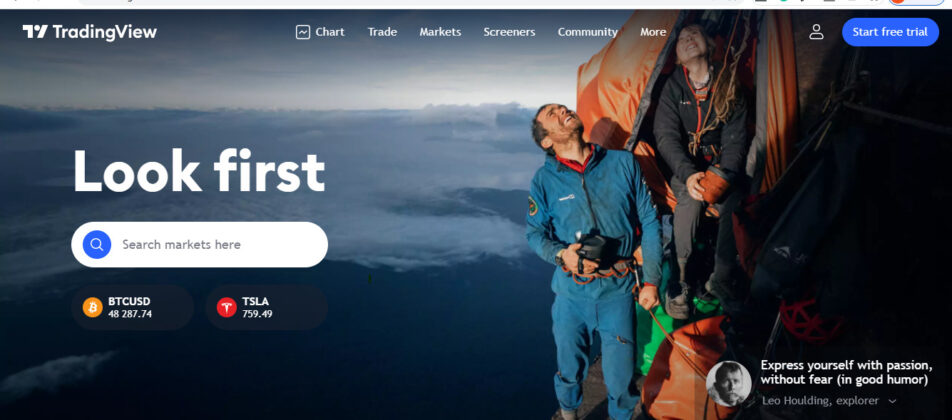 Image from www.tradingview.com
Summary
The next contender on our list of the top stock research websites is TradingView. It's an excellent resource for those interested in technical analysis and charting. Many other financial websites, such as Benzinga, use the API. LineBreak, Kagi, Heikin Ashi, Point & Figure, and Renko are just a few of the unique indicators and charts available in TradingView.
TradingView is a fantastic service for charting, screening, backtesting, and interacting with other users. With over 100 distinct options, it offers the finest selection in the market. TradingView features are integrated into some of the finest investment applications via the API.
TradingView is a wonderful place to learn because it has over 2 million daily active members that exchange ideas and make comments. TradingView is a fantastic service for charting, screening, backtesting, and interacting with other users. With over 100 distinct options, it offers the finest selection in the market. TradingView features are integrated into some of the finest investment applications via the API.
Cost
There are three pricing plans available for TradingView; Pro, Pro+, and Premium. You can try Pro for $14.95, Pro+ for $29.95, and Premium for $59.95. However, users can start with the free trial with any of the plans.
CLICK HERE TO READ MORE ABOUT TRADINGVIEW
9. Yahoo! Finance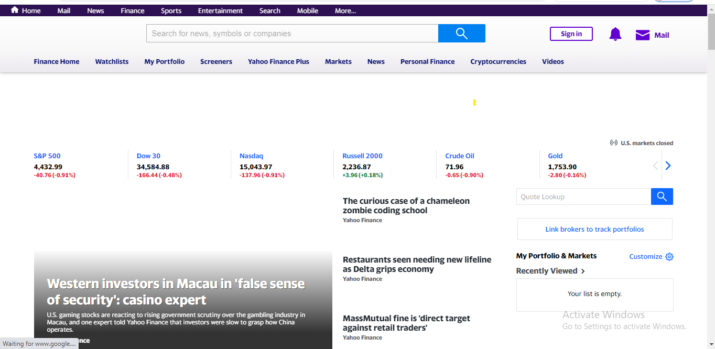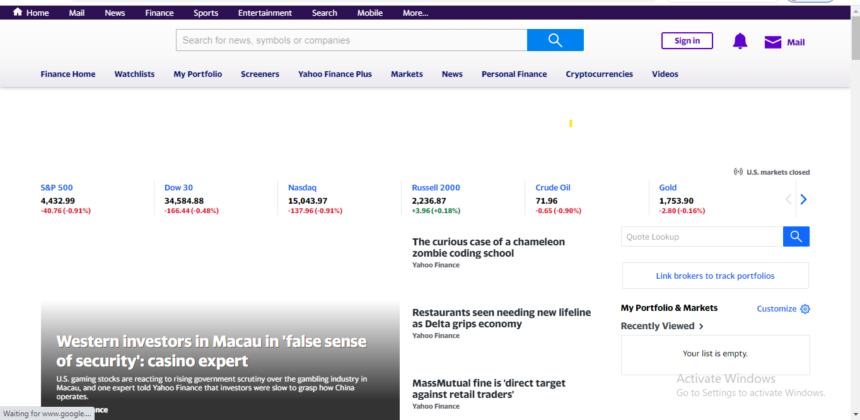 Image from finance.yahoo.com
Summary
Yahoo Finance is a free stock research website that provides information and market news on various assets and financial markets. It assists you in staying informed on all you need to know about trading and investment. Yahoo Finance also includes a fundamental analysis of financial statistics that indicate how the equity markets are performing.
In addition, you will also receive real-time updates on things that may change or occur at any given time. This is quite convenient since you can check in on reliable data at any time of day. As a result, Yahoo Finance will make managing your personal finance much easier.
Yahoo Finance Premium
You might be interested in learning about some of the premium features that aren't available with the free stock research plan. We'll go through some of the features accessible in the free plan, as well as those that are only accessible in the paid version.
Limitless Portfolio Watch Lists
Both the free and premium subscriptions in Yahoo Finance have this functionality. You may follow a limitless amount of the stock market with this. You just include them in your target list, which may contain as many as you want.
You'll be able to look at numerous stocks that are now available without having to figure out where to access them repeatedly.
News and Quotes Updates
One of the best features of this platform is that it provides real-time news updates as well as stock quote statistics. This keeps you up to date on the state of the stock market.
You'll be able to see real-time stock market values to determine when it's best to buy brand new shares. This is advantageous since you do not want to get anything that may turn out to be a letdown a short time afterward.
Frequent trading ideas
Yahoo Finance gives you access to daily trading ideas, which is a fantastic bonus. This allows you to direct your funds toward assets that catch your attention. It does seem reasonable that it should happen the way you really want it to rather than praying for the best.
However, there is a disadvantage in that there might be a lot of stock research reports dealing with varied subjects. When you're only looking for a few stocks, having to read through all of them might be exhausting.
Cost
Yahoo Finance does provide a free version, but it only includes the most basic features. Even if you don't have the money to pay, the tools they provide in the free plan are rather useful.
However, we encourage that you check into the premium plan because you'll get a lot more useful tools and guidance along the road. The monthly cost is $39.00, or you may pay $349.00 yearly to save some bucks.
This may appear to be a bit costly, but we have seen that subscribing to the premium package gives you more value for your money. You will also be able to try the premium version for 14 days for free.
CLICK HERE TO READ MORE ABOUT YAHOO!FINANCE
10. Google Finance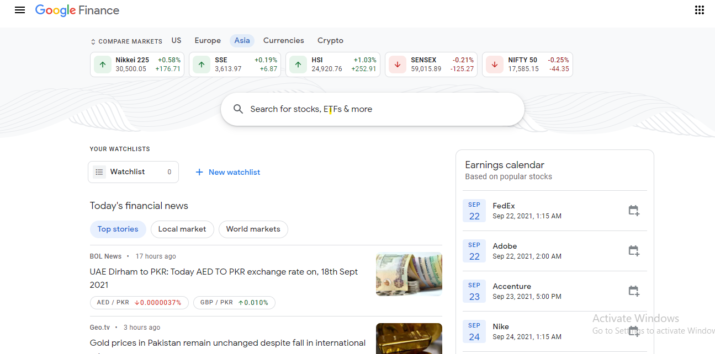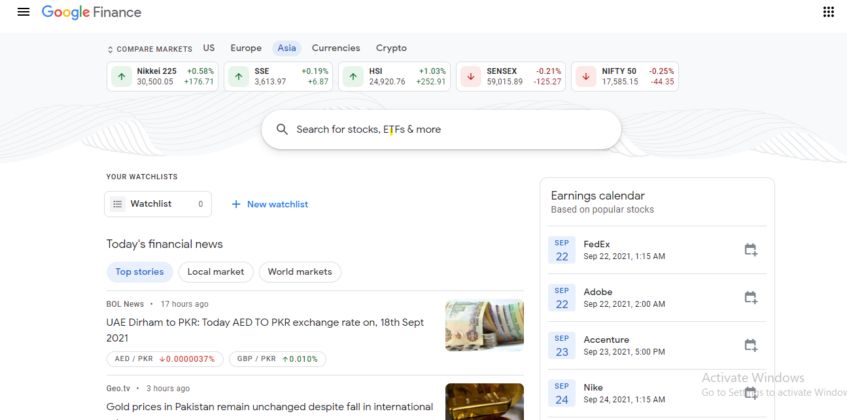 Image from www.google.com
Summary
Google Finance is one of the best stock research websites to conduct extensive research and understand more about stock investment techniques. This can help retail investors accomplish their personal finance goals if they want to purchase individual stocks and make their money work for them.
Google Finance is one of the finest sites to receive a huge number of stock quotes and financial market news while you research your investment opportunities before making a decision.
Let's look at the basic data that Google Finance offers and how to use it. The current valuation is the first figure you'll notice when looking at a stock in the platform.
Then, as you scroll down, you'll see how much the value has fluctuated in terms of percentage during the trading period. This figure will represent the stock's after-hours change if you're reviewing it after the trade has ended.
The time you searched for the stock is shown in the next row. This is essential since prices might change at any time. It provides active traders with a real-time snapshot of the value at the exact moment they looked at it. As a result, you have the opportunity to plan your trading strategies accordingly.
Cost
Unlike many other stock research apps out there, Google Finance is totally free of charge.
CLICK HERE TO READ MORE ABOUT GOOGLE FINANCE
11. Motley Fool Stock Advisor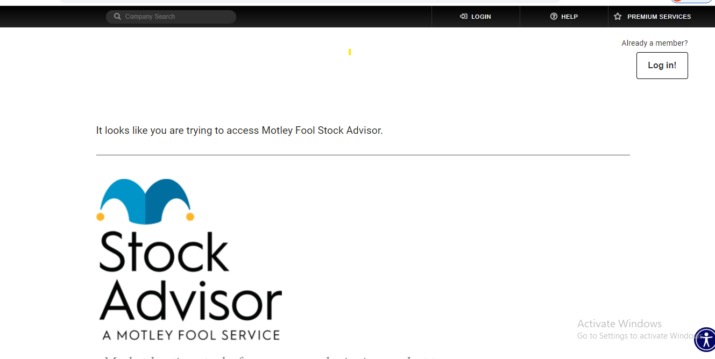 Image from www.fool.com
Summary
The Motley Fool's Stock Advisor selections have returned over 500 percent since the program's commencement in 2002. When compared to the broader market returns during the same time period, these results are quite outstanding. Investing in the Fool's stock picks would have yielded more than five times the profits of investments in the S&P 500. This indicates that a $10,000 investment would have resulted in an additional $50,000 in return. When contrasted to mutual funds performances during the same time span, the company's record of success is even more remarkable.
If you happen to be a member, you are also entitled to two new stock advisor picks every month. Moreover, members also get access to a list of all of the company's recommendations for stock picks. The data is presented in an investment research table so that users may examine how previous suggestions worked out.
Other than that, this website also provides a "Starter-Stocks" option so new members can research stocks and make their very first portfolio.
Cost
The annual subscription to Motley Fool is $199. An annual prepayment package for $99 is obtainable for the Stock Advisor membership, which is temporarily on sale. A 30-day money-back assurance is also included with the yearly membership. If you are dissatisfied with the service for any reason, you can contact customer service for a full refund within a month.
CLICK HERE TO READ MORE ABOUT MOTLEY FOOL
12. Zacks Investment Research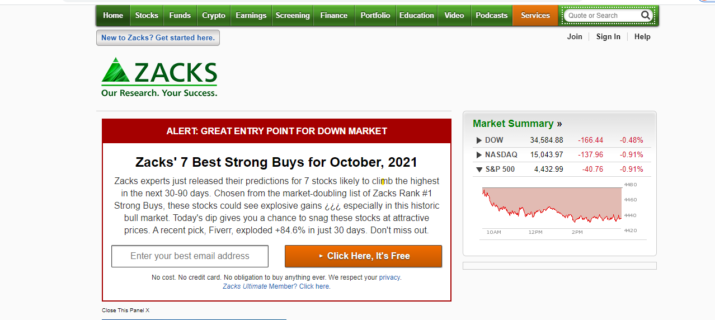 Image from www.zacks.com
Summary
Zacks Investment Research was the first business to compile stock revenue projections from all main Wall Street firms and disclose the results. Rather than simply looking at what one analyst predicted for specific stock picks, Zacks can show you all of the experts' stock recommendations as well as how many of them rated the stock as a Strong Buy, Buy, Hold, Sell, or Strong Sell. Most importantly, you could observe how things had changed or continued to trend in recent months.
In addition, this service is also one of the best stock screeners in the market. Stock screeners are a search tool for investors to sift through companies to discover those that fulfill specific criteria, such as market cap, quant ratings, P/E ratio, etc.
Cost
Zacks premium-only stock screeners have three different membership plans:
Zacks Premium for $249 per year
Zacks Investor Collection for $59 per month or $495 per year
Zacks Ultimate for $299 per month or $2995 per year
13. Seeking Alpha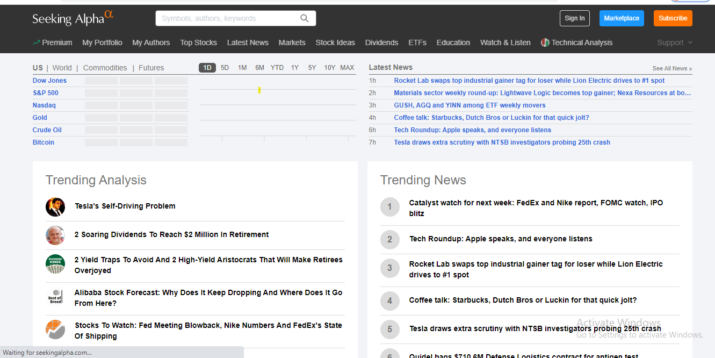 Image from seekingalpha.com
Summary
Investors who subscribe to Seeking Alpha Premium get unrestricted access to the company's investment research publications as well as the Quant Rating system. Investors can easily discover why other investors should purchase or sell a stock.
Seeking Alpha Premium may include all of the tools you'll need to analyze companies and keep track of your portfolio.
All Seeking Alpha members have access to these features, which will help you get the most out of Seeking Alpha as your main platform for stock market details.
Marketplace
Seeking Alpha offers a membership program comparable to an investment newsletter. This material includes more in-depth research alongside a model portfolio.
Stock ideas
The Stock Ideas feed aggregates articles on various investment topics. The homepage of Seeking Alpha displays a list of the most popular topics. Visiting both places allows you to pinpoint other material that may be of value to you.
Cost
Seeking Alpha offers three different programs that you can potentially link up with your brokerage account.
Basic
Seeking Alpha Premium for $29.99 per month
Seeking Alpha Pro for $299.99 per month
14. Trade-Ideas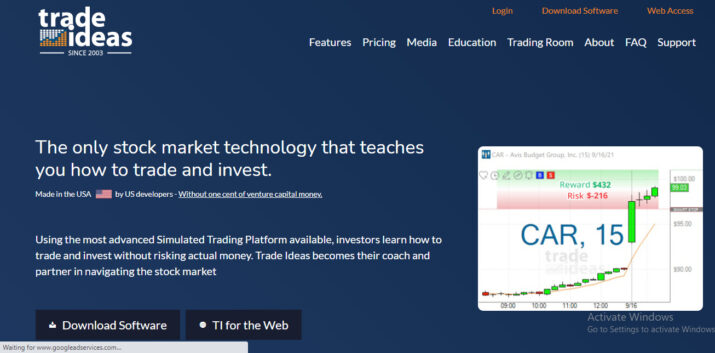 Image from www.trade-ideas.com
Summary
Trade-Ideas is a sophisticated stock analyzer with a plethora of pre-developed scans that offer many opportunities for intra-day traders. With further add-on possibilities, the platform is versatile, flexible, and highly configurable. An interesting innovation to this platform is an artificial intelligence (AI) based self-driving algorithm called "Holly Grail," which assesses set-ups via millions of simulations daily to generate trading suggestions. While the system might be daunting at first for newbies, once accustomed, it quickly becomes an indispensable service.
Cost
In addition to a free limited option, Trade-Ideas (TI) offers two paid options. The "Standard plan" is available for $118 per month. Other than that, the "Premium plan" costs $228 per month.
15. Wall Street Journal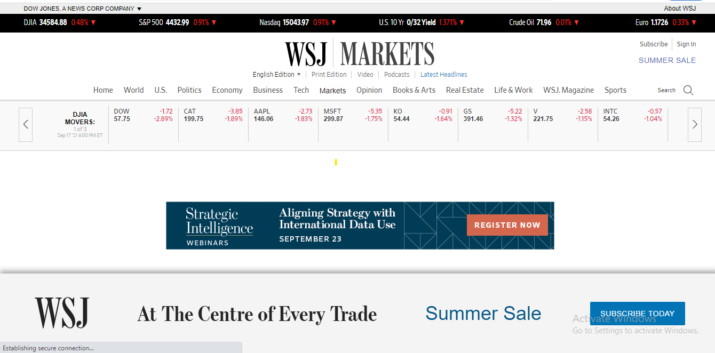 Image from www.wsj.com
Summary
The printed version of the Wall Street Journal was the most widely read newspaper on Wall Street. Subscribers acquire accessibility to leading news and relevant sources for stock evaluation. Charting, news, important stock data research, and stock rating insights are all available through the WSJ Markets research services. The trade data is delayed, but if the information supplied for free is what you need, this online resource can help you achieve your financial objectives.
Cost
New members may still subscribe to the Wall Street Journal in prints for $22.49 per month, but there is now an all-access online membership for $4 per month for a year.
Conclusion
As you can see, there are many research apps out there for analyzing the stock market. However, Finviz takes the cake because of its analytical approach to stock evaluation. Moreover, it uses real-time quotes with accurate visualizations, making it the best stock research website in the market.
CLICK HERE TO GET FINVIZ AT A DISCOUNTED PRICE
Like this Article? Subscribe to Our Feed!
Author: J Maver
Passionate in tech, software and gadgets. I enjoy reviewing and comparing products & services, uncovering new trends and digging up little known products that deserve an audience.